Stirling youth festival mFest gets underway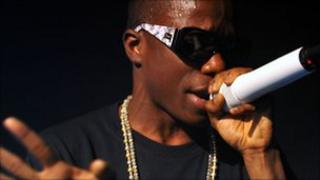 A new festival "by young people for everyone" in Stirling will feature stars including hip hopper Tinchy Stryder and teen stand-up comic Daniel Sloss.
MFest has been planned, organised and programmed by about 100 Scottish teenagers.
It will run from from 30 July to 2 August throughout the city.
The event is the culmination of the Macrobert centre's youth project mPOWER.
Featuring more than 80 acts and screenings from the worlds of music, theatre, dance, comedy and film, Saturday 31 July will see the peak of the festival with over 30 performances at four venues.
The festival's closing party will feature self-proclaimed king of electro-pop Calvin Harris preceding a fireworks display from Stirling's Wallace Monument.
Mr Harris said: "I'm very excited to be DJing at the MFest closing party. It is an extremely diverse line-up, and they have done incredibly well with their programme."
One of the organisers, Rhian Campbell, 15, said: "We've worked incredibly hard on the project to get to this stage and to see it all come together is fantastic.
"MFest is unique in its delivery; nothing on this scale has been delivered exclusively by young people.
"We are incredibly proud of that and we feel like we've made a difference."
The mPOWER project and resultant festival has received more than £700,000 from the Scottish Arts Council Inspire Fund.
The Scottish Arts Council has merged with Scottish Screen to become Creative Scotland.