Mark McDonald stabbed 'best pal' to death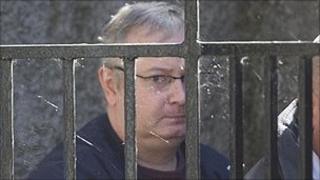 A man stabbed his mother to death just days before claiming she had been his "greatest pal", a court was told.
Mark McDonald used a kitchen knife to inflict more than 30 stab wounds on 66-year-old Veronica Reid.
He later attempted to kill himself with a razor because he could not live without her, the High Court in Perth heard.
McDonald, 42, denies the culpable homicide charge on the grounds of insanity.
Consultant forensic psychiatrist Dr Duncan Alcock, of the State Hospital at Carstairs, told the trial he had interviewed McDonald a few days after the killing.
'In trouble'
In his report, which was presented to the jury, he said McDonald and his mother had watched TV and eaten dinner together in the early evening of 31 July last year.
The report stated: "He felt his life was in danger and somebody was going to attack him. They ate tea and watched television and during this time he developed the belief his mother had not been supportive and was not as loyal as she had been.
"He noticed his mother playing with her nose and ears during much of the evening. He began thinking this as a signal given out to others that he should be mutilated facially.
"He became increasingly edgy and looked out into the street. He became concerned when people passed the house. He overheard neighbours saying 'Mark's in trouble'."
Dr Alcock's report then described how McDonald lured his mother into the garage of their home in Kelso Place, Dundee, before attacking her.
Mrs Reid was found with 32 stab wounds and a broken neck.
Psychiatric care
Dr Alcock said a few days after being arrested, McDonald admitted attempting suicide by slashing himself with a razor he had been given to shave.
He said he had done it because he had "lost his mum, my greatest pal, my confidante" and that his life would no longer be worth living without her.
The court has already heard how McDonald, who had a six-year history of mental illness, had been released from a psychiatric unit three days before killing his mother.
He had been undergoing psychiatric care since the death of his police officer stepfather in 2004 and believed his mother had been poisoning him with weedkiller. He claimed she blamed him over his stepfather's death.
McDonald confessed during a police interview to stabbing his mother because he feared she was in cahoots with the Mafia and was plotting against him.
He was later found with a note saying: "Mum dead in garage."
The trial before Lord Malcolm continues.