New Forth Valley Royal Hospital opens to first patients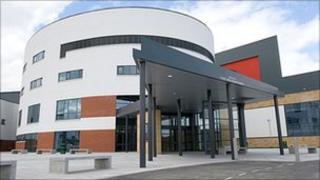 The new £300m Forth Valley Royal Hospital has opened to its first patients.
Those requiring treatment for conditions like diabetes, respiratory disease and cardiology issues will be among the first seen at the hospital.
The move is the first of a three-phase plan to transfer services from Falkirk and Stirling infirmaries to Larbert.
The final phase of the operation is due to take place in July 2011 with the transfer of maternity services and A&E.
The building, which is Scotland's largest NHS construction project, will have 860 beds and 16 operating theatres when complete.
The hospital has also become the first in the UK to employ a fleet of robot workers.
The machines will carry clinical waste, deliver food, clean the operating theatres and dispense drugs.
They will have their own dedicated network of corridors underneath the hospital.