Son blames 'death plot' for stabbing mother to death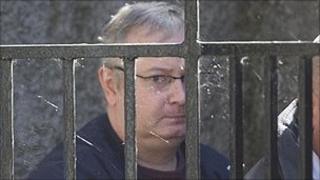 A man accused of stabbing his mother to death thought she was involved in a plot to kill him, a court has heard.
Mark McDonald attacked Veronica Reid last July because he thought she was the "prime mover" in the conspiracy.
Consultant forensic psychiatrist Dr Thomas Whyte said McDonald's beliefs meant he would not have been able to stop himself from attacking his mother.
The 42-year-old from Dundee denies the culpable homicide charge on the grounds of insanity.
His 66-year-old mother was found dead with more than 100 wounds, including 32 stab wounds, in her garage in the city's Kelso Place.
Dr Whyte told the High Court in Perth: "His delusions had escalated significantly and he believed his death was imminent during the week before the attack."
The doctor added: "He believed at this point that his mother was the prime mover in the plot against him. He had a very rapid descent into an acute suspicion of others.
"His assault on his mother was a pre-emptive strike.
"He believed his mother was going to have him killed that very night, and in all likelihood, most painfully."
Dr Whyte said McDonald would not have appreciated "the wrongfulness of his attack".
He said: "I do not believe he could simply have walked away. He believed the threat from his mother was so acute and so imminent that he had no options."
Secret signals
The trial has heard how McDonald believed he had been made a Mafia Don at the age of two and was being secretly watched by members of the Dundee underworld.
He thought taxi drivers who drove past his home and neighbours were involved in the plot and were exchanging secret code signals with his mother.
McDonald admitted to police that he enticed his mother into her garage before attacking her with a kitchen knife and leaving her dead body in a pool of blood.
The court has heard that he had been released from a psychiatric unit in Dundee three days before the attack, against the wishes of the psychiatrist in charge.
He had been undergoing psychiatric care since the death of his police officer stepfather in 2004 and believed his mother had blamed him for the death and was poisoning him with weedkiller.
McDonald is alleged to have killed his mother at Kelso Place in Dundee by stabbing her repeatedly on the head and body on 31 July 2009.
The trial before Lord Malcolm continues.