Genetics expert finds Falkirk birth family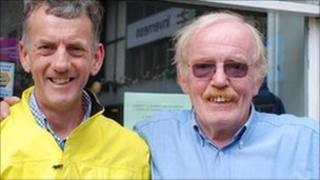 A man who was left on the doorstep of a house 49 years ago has found his birth family.
Genetics expert Andrew Rowan was abandoned when he was a one-day-old baby in Falkirk.
He only realised he had been left on a doorstep when his adoptive mum died in 1993.
Following a report on the BBC's Reporting Scotland programme, Mr Rowan has identified his father and met the brother he never knew her had.
Mr Rowan, who has worked as a geneticist for Cancer Research in London for the past 25 years, said it was "ever so exciting" to meet his brother Ronnie, who lives near Perth.
He said: "After watching the item on BBC's Reporting Scotland Ronnie recognised me and felt I looked like his father."
The brothers met two or three weeks ago in Inverness and will meet again in October.
'Thrilled to bits'
Mr Rowan, who was brought up in Dalkeith, Midlothian, but now lives in Hertfordshire, said: "It took a while but I am thrilled to bits to find my brother.
"We will be meeting up again in October."
Mr Rowan's birth father, who died in 1995, was a former chief medical officer for West Lothian.
"It is particularly exciting that my father was a doctor, especially as I work with doctors, in a medical/clinical environment looking at bowel cancer," he said.
"However, I'm not sure if there is a genetic link."
Mr Rowan is still searching for his mother.