Homes prepare for digital switchover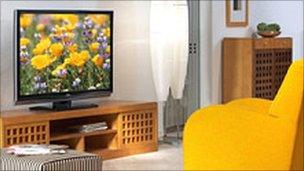 More than 200,000 households will have to retune their TVs and set top boxes as the latest stage of the digital switchover gets under way.
Viewers in Angus, Tayside, Perthshire and Fife are affected by the change.
On Wednesday, the analogue BBC2 signal from Angus was switched off and the remaining four channels will follow on 18 August.
The move will mean more than 75,000 viewers are able to access Freeview for the first time.
The process, which will affect all TV viewers in the UK, involves the conversion of the country's terrestrial television system to digital.
Analogue channels will be switched off region by region and replaced with free-to-air digital TV and radio services.
Paul Hughes, Digital UK's national manager for Scotland, said: "This is by far the largest switchover Scotland has seen, affecting more than 200,000 households with many people receiving Freeview channels for the first time.
"We're now encouraging any viewers who still don't have the necessary equipment to get ready in time for 18 August, when all the analogue channels will be permanently switched off."
Anyone needing advice on converting to digital is urged to contact Digital UK.
Related Internet Links
The BBC is not responsible for the content of external sites.