Students in Scotland 'counting pennies'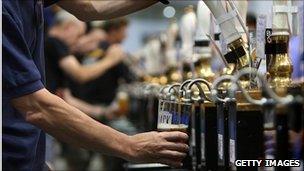 More students in Scotland are choosing their place of study based on financial factors, according to research.
The RBS Student Living Index indicated that 24% of undergraduates took into account a city's cost of living and earning potential when choosing a university - up 18% from last year.
The index named Dundee as the most cost-effective student city in Scotland, with Edinburgh the least.
It claimed students in Dundee spend just £175.24 per week but earn £125.84.
And undergraduates in the city work more than 19 hours a week to earn the money, according to the research.
It suggested that students in Edinburgh are spending more than £25 a week than they would in Dundee - or £743.70 over the course of the year.
The study also indicated that the outgoings for students in Scotland were £186.04 a week, more than £15 less than the UK average of £201.77.
Tom Adamson, head of RBS student banking, said: "The results from this year's RBS Student Living Index clearly show that savvy Scottish students are keeping their finances in check.
"As well as working hard at their academic studies, they're also working hard to offset the costs.
"Taking these proactive steps to manage their finances is enabling them to continue to enjoy university life and prepare for their future."
Overall, 34% of 300 students questioned in Scotland, said they are receiving less in parental contributions than last year, with 10% stating it is more than £500.
A total of 48% of students surveyed in Scotland expect to have a job within their first year out of university without it necessarily being the "right" job.
And 74% are focusing on activities such as applying for internships, working during the holidays instead of travelling and working harder in preparation for the graduate job market.
London tops the RBS Student Living Index University City League Table, with Dundee second, Manchester third, Glasgow fifth and Edinburgh in 17th spot.
The table ranks the UK's major university cities by plotting average student expenditure on living and housing costs against income from term-time employment.
The research was conducted in June and July among a sample of 2,500 undergraduates in 25 university cities and towns in the UK.
About 300 students in Dundee, Edinburgh and Glasgow were included in the survey.
Related Internet Links
The BBC is not responsible for the content of external sites.