Questions raised over air rifle safety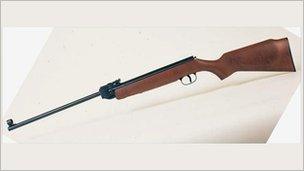 Air gun safety cannot be judged on the power of the weapon alone, according to a Dundee study.
The Abertay University research found ammunition type and the angle pellets struck a target were also factors in how lethal the rifles can be.
Under UK legislation anyone over 18 can buy an air rifle if it delivers less than 16.2 Joules of energy.
But the weapons have been responsible for a series of injuries and deaths in recent years.
There were at least two air rifle deaths in the UK last year, including a five-year boy who died from cross fire from a shooting range in Wiltshire, with campaigners calling for greater control on the sale of air weapons.
The Scottish government is also seeking the right to control the air weapons in Scotland, although this power is currently reserved to Westminster.
Dr Graham Wightman, who led the study, said a lot of research had been carried out on handguns, but much less work on airguns.
"The fact that people can buy these weapons legally, there's a tendency to believe they are therefore safe, but it's what people do with them afterwards that matters," he said.
"People are a lot more careful of other firearms because of the need for a licence."
The research, published in Forensic Science International, aimed to improve the understanding of how air gun pellets behave when they hit people.
Ballistic gel was used to mimic muscle tissue during the study.
Dr Wightman added: "Current legislation is based on the weapon's power. However, there are other factors which need to be considered.
"For example, the type of pellet affects penetration, and if the pellet strikes bone at an angle, the pellet fragments may ricochet and cause further damage.
"In general terms, the safety of air weapons should not be judged on their power alone, as is currently the case."
Related Internet Links
The BBC is not responsible for the content of external sites.