Butchered pet lamb found in Clackmannanshire road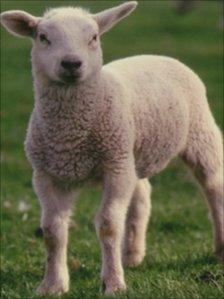 A thief stole a family's pet lamb and then butchered it in the street, police have revealed.
The hand-reared animal was one of three kept by Jane Lafferty in an enclosure in Sauchie, Clackmannanshire.
A Central Scotland Police spokeswoman said the remains of the lamb, called Lily, were found on Friday by a "horrified dog walker".
Mrs Lafferty branded the person responsible for the death of the pet as "pure evil".
"I am horrified by what has happened. I haven't slept and can't eat," she said.
"I am sickened and shocked by it all."
She added that the pet had been used to help provide therapy for disabled children.
Central Scotland Police has appealed for the public to help them with their inquiries into the incident.
A spokeswoman said: "Between 4.30pm on Thursday 12 August and 9.30am on Friday 13 August a sheep was stolen from a fenced area to the rear of Ochilview licensed premises before being killed a short distance away where the remains were discovered by a horrified dog walker.
"This is a despicable crime that has brought a lot of distress to its owner and the local residents and it is extremely important that we find the person responsible."
Mrs Lafferty said she had been forced to move her two remaining lambs to a safer location until she was able to improve the security of their enclosure.
"I am wary if they were brought back that it would happen again, but if we could properly secure them, it would be an option," she said.
"It would be a terrible shame if that couldn't happen, as their presence was well loved by kids and adults."
Mrs Lafferty added she felt particularly upset for one child with cerebral palsy who would now miss out on the therapeutic benefits of spending time with the animals.
Related Internet Links
The BBC is not responsible for the content of external sites.