Paedophile John Nicoll reacted against strict childhood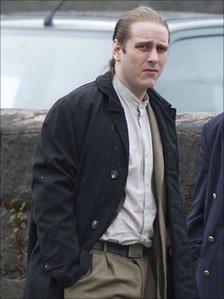 A paedophile developed an interest in child pornography as a reaction to a strict childhood in the US.
John Nicoll, 28, was jailed for a year after he was caught with child porn on his home computer.
Perth Sheriff Court was told he began downloading images and videos of child sex abuse within days of arriving in Scotland in May 2008.
He had been jailed for two years in the US after breaking into a house and sexually assaulting a 10-year-old girl.
Earlier this year, Nicoll was made the subject of a groundbreaking legal action by Tayside Police when they discovered he had moved to Perth.
The ruling placed Nicoll, who came to Scotland to live with his father, on the UK Sex Offender Register.
Following this case, Nicoll was placed on a further six-month supervised release order and banned from working with children or having any solo contact with girls under 16.
He had previously told social workers he had developed an interest in child pornography after reacting against a strict religious upbringing as a Jehovah's Witness.
Solicitor Linda Clark, defending, said: "Mr Nicoll was brought up in a household with a fairly strict religious intervention.
"Whilst he does not blame that for what he has done he is able to comment that a lot of his behaviour, which would be normal for children or young adults, was not approved of in the household.
"After leaving home and being on his own he developed relationships with 40 women over a very short period. None were lasting and he described them as more or less one night stands."
Mrs Clark told the court that Nicoll had also recently fathered a child and would have to look into the question of being allowed access to the child in future.
The court was told that Nicoll had been assessed as posing a "very high risk" to the public by both social workers and psychologists who had worked with him.
Nicoll spent between 19 and 23 months behind bars in North Carolina but travelled to his parents' homeland in Scotland shortly after being released from prison.
He was also considered so dangerous by the American authorities that he was placed on the Sex Offenders Register in the US for a period of 30 years.
Nicoll admitted downloading 1,138 images between 9 June 2008 and 9 June 2009.
Fiscal depute Alan Kempton told the court some of the images were "level five", showing children being violently sexually abused.
Related Internet Links
The BBC is not responsible for the content of external sites.