Teenager guilty over nude cycling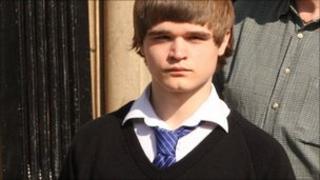 A schoolboy who cycled naked down a country road claiming he was practising for the Tour de France has been placed on the Sex Offenders' Register.
Joseph Hendry was seen by an 11-year-old girl as he cycled wearing nothing but a hat at Gargunnock, Stirlingshire.
The 17-year-old said he had thrown his clothes in a bush because he was hot and wanted to "try out" naked riding.
The girl gave evidence from behind a screen at Stirling Sheriff Court about the incident in August 2009.
The court heard that she had seen Hendry while out walking her dog.
She said: "I saw him cycling ahead of me on his bike, and he was wearing a beanie hat, T-shirt and jeans. He rode round a corner, and came back a minute later wearing no clothes but his hat."
Police called
The girl, who cannot be named for legal reasons, said he had stopped to chat with her.
She added: "I was quite shocked. I had never seen anybody naked before."
The girl's parents called the police after she had told them what happened.
Hendry, from Gargunnock, claimed in evidence that he tried talking to the girl while he was naked to make the situation "seem normal".
He said: "I had been cycling all day because I wanted to compete in the Tour de France.
"It had been very hot. I just wanted to try it, and thought it would be funny, so I hid my clothes in a hedge.
"When I saw the girl I panicked. I didn't want to cycle past her really fast and freak her out. I tried to act as if I had my clothes on to try and make the situation seem normal."
Hendry, a sixth-year pupil at Stirling High School, said he had given up his "dream" of competing in the Tour de France, and had stopped riding since the incident.
He was found guilty of public indecency after a three hour summary trial.
Steven Maguire, defending, said Hendry was an "immature little boy".
Sheriff Wyllie Robertson deferred sentence for background reports and ordered his name to be placed on the Sex Offenders' Register.
"This girl gave her evidence in a thoroughly clear and straight forward manner and I believe her," he said.
"It is clear that there was a sexual element to this offence."