New jobs hope for games industry in Dundee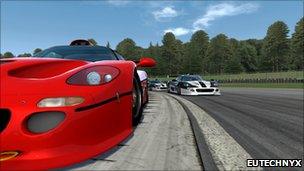 Scotland's video games industry has been boosted by news that an expanding games company may be set up in Dundee.
Driving game specialist Eutechnyx revealed it was looking to establish a studio in the city to complement its existing locations across the world.
The Gateshead-based company said it was considering the move because of its past links with developers in Scotland.
The news follows the collapse last week of Dundee-based games firm Realtime Worlds with the loss of dozens of jobs.
Eutechnyx, which has offices in the UK, China and the USA, said it had worked with licences such as Ferrari, James Bond and Formula One and was looking to expand on the back of recent substantial investment.
The company did not reveal its timescale for developing a studio in Dundee or the number of jobs that could be involved.
Eutechnyx chief executive, Brian Jobling, said: "We have been considering a studio in Scotland for some time, having worked with developers based there for a number of years.
"By forming a studio in Dundee, developers who wish to remain in the area can do so and have the opportunity to become part of a new chapter in Eutechnyx's future."
Bafta-winning Realtime Worlds went into administration last week with the loss of 185 jobs in the UK and US, but more than 20 staff subsequently won their jobs back.
The staff are working on a social gaming project "MyWorld", which administrators hope will attract potential buyers.
Related Internet Links
The BBC is not responsible for the content of external sites.