Chiltern red kite's Scottish 'staycation'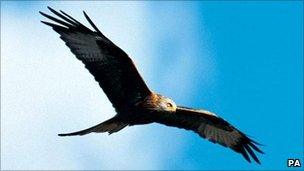 A red kite from England, which hardly ever leaves its own territory, has been spotted 400 miles away in Scotland.
The bird - known as yellow/pink1 after the colour of his wing-tags - was seen this week at Argaty Red Kites, a feeding station near Doune, Perthshire.
It comes from a nest at Fawley in Buckinghamshire and was tagged as part of the kite reintroduction project in the Chilterns.
It is the first time a kite from the area has been recorded in Scotland.
Experts are not sure whether yellow/pink1 will return or extend its "staycation" and remain at Argaty for the winter.
The bird is of breeding age, so potentially could chose to stay and pair with a local kite in the spring.
Mike McDonnell, the information officer from Argaty, said: "Kites are fascinating birds with some rather unpredictable habits.
"Most of the kites in the UK today are quite sedentary, staying reasonably close to the areas they were hatched out.
"We do get a few birds that travel quite widely - round trips of several hundred miles in only a few days are not unheard of - but these are usually kites which are descended from Swedish birds, which are naturally migratory."
Mr McDonnell said it was a "real treat" to see one of the the Chiltern birds travel so far, as they came originally from the Spanish kite population, which among the most sedentary in Europe.
Red kites were persecuted to extinction throughout the UK, with the exception of Wales, during the 19th Century.
In 1989 a reintroduction programme was set up by the bird protection organisation RSPB and the Nature Conservancy Council, with red kites being brought to the country from Sweden and Germany.
The RSPB said the Chiltern project had been one of the most successful programmes, with about 800 pairs breeding in the surrounding areas.
Related Internet Links
The BBC is not responsible for the content of external sites.