UK climbers make Afghan first ascents
By Christopher Sleight
BBC News website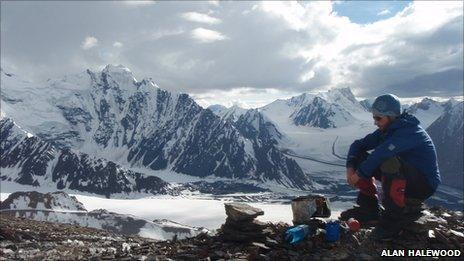 Most climbers like to push their technical limits, others want to reach the highest summits - but a few just want to find places where no-one has climbed before.
It took Alan Halewood years of planning and 18 days of arduous travel to reach his unclimbed peak - in a country that most people wouldn't even dream of visiting.
The mountaineering instructor from Fort William made the first ascent of a 5,561m summit in the Wakhan Corridor, north-east Afghanistan.
It was the culmination of a 20-year ambition and almost three weeks' journey by train, plane, four-wheel drive cars, two sets of horses and finally on foot, battling some of the worst weather the Wakhan locals had seen for years.
The last hours were spent ascending the loose, higher reaches of the mountain solo after his climbing partner Neal Gwynne decided to go down.
His climb is unlikely to be repeated any time soon.
Alan says: "I was standing on top of a mountain in Afghanistan that probably no Westerner had even seen - maybe no human being has even seen.
"It's tucked in a little valley in the middle of nowhere and I'm turning 360 degrees and able to see nothing but snowy peaks as far as the eye could see."
No inhabited valleys overlook the mountain, so Alan named it Koh-e-Iskander - after his two-year-old son Sandy and Alexander the Great, a figure that looms large in central Asian literature.
The solo climb was followed by a delicate and often frightening descent across avalanche-prone slopes in failing light.
"If the slope had gone I probably would have been swept into a crevasse, so it took a lot of care and judgement and was very time consuming," he says.
After more than 12 hours Alan reached his tent, physically and mentally exhausted.
Camped in a tributary valley off the Wakhjir River, near the eastern tip of the Wakhan, there is little or no chance of rescue, Alan acknowledges.
"It's tense. You feel stressed and your brain is ticking over the whole time and continually judging the ground," he says.
"I didn't make the decision to go on alone in a blasé fashion."
A few days later, both climbers made it to the top of another unclimbed peak which they named Koh-e-Khat - or peak of the donkey - as the twin summit towers looked like donkey's ears.
"It was a great summit and a good one to share with Neal," Alan says.
"We were looking at some amazing sheets of rock - 800m high rock faces - and crystal clear glimmering turquoise lakes down underneath us.
"The view was quite stupendous."
The pair's pursuit of the unexplored and unclimbed took them to a country considered as one of the most dangerous in the world - something which often leads to "raised eyebrows" when people learn of their exploits, Alan says.
But, attracted by the scenery, a few adventurous tourists have started to return to the Wakhan Corridor, a spur of land created in the 19th Century as a buffer zone between the imperial powers of Russia and Britain.
The corridor - just 20km wide in places - is part of Badakhshan Province and has been largely untouched by the years of occupation and conflict that has blighted the rest of Afghanistan.
Welsh and Polish expeditions also visited the region this summer.
And about 70 people are expected to have travelled to the Wakhan by the end of the season, a local tour operator told the BBC.
But the murder of eight foreign medical workers in the southern half of Badakhshan in early August was a deadly reminder that no part of the country can truly be considered safe.
Though Neal says that even after learning of the deaths on their journey back through the Wakhan, they never felt at threat.
"When I look back on it the highlight will certainly be living and travelling with the people," the biology teacher at The Glasgow Academy says.
"I've travelled pretty extensively, in every continent apart from North America, and nowhere have I experienced the hospitality, generosity and kindness remotely close to what we received in Afghanistan," he adds.
"It's the poorest province in one of the poorest countries in the world. They had nothing but they gave you everything they had.
The pair say they also brought home indelible memories of a vivid land.
In Kasch Goz, they witnessed a game of Buzkashi - a type of polo traditional in central Asia and played with a headless goat carcass.
And in Sang Naw Ishta they sheltered from the rain in a yurt, sharing tea with a Kabul electronics trader and his "gang of cut-throats" plying an ancient trade route.
Alan says that with the traders and their guide and horsemen who helped them to their base camp, there was a shared bond from travelling - and surviving - in the mountains.
"Even if they didn't understand what we were doing in the mountains, there was a level of respect for us and friendship," he says.
"In the end, we weren't employers and employees, but fellow travellers and friends."
Related Internet Links
The BBC is not responsible for the content of external sites.