Three-year-old's call 'saved diabetic mother's life'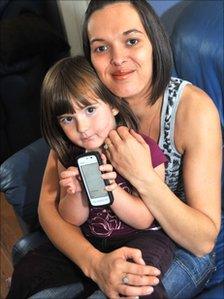 A three-year-old girl has saved her diabetic mother's life by phoning for help when she collapsed unconscious.
Hazel Neil, from Tullibody in Clackmannanshire, was playing with her daughter Rebecca when she slipped into hypoglycaemic shock.
Rebecca called a family friend using her mother's touch screen mobile and told her: "Mummy's hurt."
The friend knew Mrs Neil, 27, was diabetic and alerted family living nearby to the emergency.
Mrs Neil said she had gone into hypoglycaemic shock before, but her husband Alexander Neil, 35, had always been on hand to help.
She said: "I still can't believe that a three-year-old was able to do what she did.
"She has never seen me like that before or used the phone.
"I don't let her play with the phones yet, because she is a bit too young, so it's astounding she had the instinct to make the call."
The mother-of-one said her phone could also be quite hard to use.
"Rebecca got the phone and must have slid the button on the side to unlock it," she said.
"She then got into the phone addresses and phoned my friend Ann-Marie, who is under 'Gringe', so it's not as if she called the first on the list."
Ann-Marie's partner and Mrs Neil's father-in-law and brother-in-law immediately went to the house in Tullibody, while Ann-Marie stayed on the phone to Rebecca, who started nursery this week.
When brother-in-law Dale ran into the room he found a crying Rebecca sitting next to her mother, who was lying on the bed with her eyes closed.
His first thought was that they had arrived too late, but as he shook her he realised she was breathing and moving slightly.
Paramedics arrived shortly after, as did Mr Neil, who had rushed home from a fishing trip as soon as he heard the news.
Mrs Neil said the next thing she remembered was waking up with a paramedic beside her.
She added: "It was scary waking up surrounded by paramedics and concerned family, but I might not have woken up at all if it wasn't for Rebecca.
"When I'm alone with Rebecca I always take care of myself and can feel if my blood sugar levels are going down. But this time there was no warning, I just slipped away," she said.
"I am so incredibly proud of Rebecca, I owe my life to her."