Red kite found dead was poisoned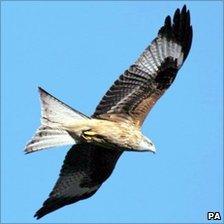 A red kite found dead in Perthshire at the end of July was poisoned, police have said.
It is thought the bird may have been dead for a few months when it was discovered in Strathtay, near Aberfeldy.
Tests carried out at Science and Advice for Scottish Agriculture in Edinburgh confirmed that it had been poisoned.
Tayside Police said five buzzards and a tawny owl met a similar fate in the same area last year.
In addition, nine buzzards, two sparrowhawks, two crows, a common gull and a further tawny owl have been found poisoned in the same region over the past 15 years.
A polecat and domestic cat have also recovered poisoned near Strathtay by police officers.
Tayside Police's wildlife crime officer Alan Stewart said: "There is no doubt that the scourge of poisoning wildlife in Scotland has decreased in general terms in recent years.
"However there remain a number of 'hotspots' that blight our civilisation and our reputation worldwide."
Police have appealed to people with information about the poisoning to contact them.
Related Internet Links
The BBC is not responsible for the content of external sites.