Central Scotland Police plan to cut 23% of officers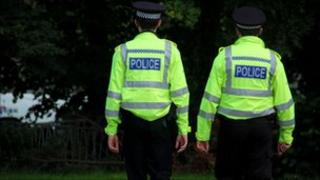 Central Scotland Police is planning to cut 194 police posts over the next four years to save millions of pounds.
Documents prepared by Chief Constable Kevin Smith show that 180 civilian staff also face the axe as the force attempts to save £11.6m by 2015.
Closing police offices - many in small villages with just one community officer - is another option being considered.
The force is anticipating a 24% cut in its funding, spread over four years.
The proposals were considered by councillors at a meeting of the Central Scotland Joint Police Board in Falkirk .
Chief Constable Smith said in his spending review that there needed to be an "honest, professional appraisal of the reality we face".
He also predicted there would be a "significant impact on service delivery as we know it" if the cuts are as deep as anticipated.
Almost 90% of the force's budget is spent on staff.
Les Gray, chairman of the Scottish Police Federation, said the cuts were a "false economy" that would result in more people becoming victims of crime.
"To try and deliver 24% of savings over the next four years is impossible," he said.
"The police service will grind to a halt - we will not have the officers to attend calls. The people will not be safe on the streets."
The 194 police posts that could be closed account for 23% of the total number of officers at Central Scotland Police. The number of civilian staff could be cut almost in half.
The document also sets out plans if the force can only reduce the number of police posts using natural wastage - currently about 30 officers a year.
999 staff
If compulsory redundancy cannot be used then the number of police posts would only be cut by 105, or 13%.
But civilian staff would be reduced by almost three-quarters, with the loss of 286 people.
The Unison union, which represents civilian staff at the force, said the cuts would "directly affect" frontline services.
A joint statement from the Unison stewards at Central Scotland Police said civilians were employed as crime investigators, 999 call handlers and at police office receptions.
"Central Scotland Police is recognised as one of the best performing forces in Britain and has achieved this by employing a mixed economy of civilian staff and police officers," the statement said.
"This level of service and commitment in cutting crime in your community will be lost with these cuts."
Budget shortfall
Police officers can be made compulsory redundant using Regulation A19 of the Police Pensions Regulation Act 1987, which affects those with 30 years service or more.
Under the act, such officers can be required to retire if their retention is not "in the general interests of efficiency".
The plans have been revealed the day after Strathclyde Police said it was inviting all of its civilian staff to apply for voluntary redundancy in a bid to cut up to 600 jobs.
The force also aims to cut 200 officer posts through early retirement.
The measures, approved by Strathclyde Joint Police Authority, aim to rein in a projected budget shortfall of about £128.5m by 2015.