Inversnaid Primary School costs £54,000 per pupil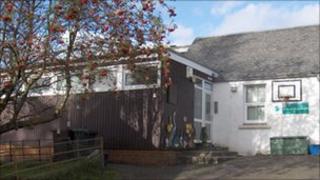 A school in a tiny Scottish village that costs £108,000 a year to run has only two pupils - and the head teacher is the children's mother.
The £54,000 cost per pupil at Inversnaid Primary in Stirlingshire makes it one of the most expensive in the UK.
The average cost per child in other Scottish primaries is £3,948 per year.
Stirling Council said it was committed to providing a "high quality education" to all children in its area.
A spokeswoman said: "In some rural areas this includes providing schooling in schools where the roll can be low. This is not uncommon in rural areas across the UK.
"The school has an annual total budget of £108,000 to cover all of its running costs, which are inevitably incurred, regardless of the number of pupils on its roll."
The four members of staff at Inversnaid Primary are the head teacher, a part-time classroom assistant, a part-time teacher and a part-time cleaner.
Head teacher Christine Carter was appointed this year after previously being acting head. The only two pupils are her 10-year-old son and eight-year-old daughter.
Stirling Council said there had been four pupils on the roll last year.
The school was earmarked for closure 13 years ago when it had three pupils, but parents threatened to keep their children at home rather than allow them to be taken daily by taxi more than 10 miles (16km) to what was then the nearest school.
The ruling Labour group eventually decided it would be "inappropriate" to push ahead with the closure plans and Inversnaid remained open.
The closest alternative now is the primary school at Aberfoyle, which is 15 miles (24km) away on roads that can be dangerous in wet or wintry conditions.
Stirling Council said that in light of the school's current and projected size, the authority's education service would be seeking approval to consult on its future at the next meeting of the executive on 2 September.