Beano Club closed to new members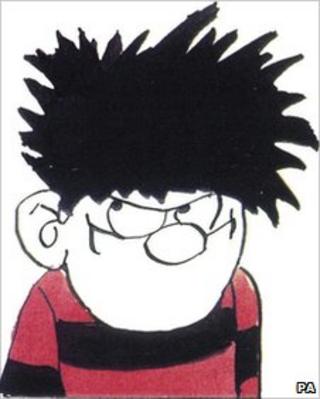 The long-running club for dedicated fans of Dennis the Menace is to be replaced with a website in a bid to attract more members.
The Beano Club stopped accepting new members in August, though the comic's Dundee publishers DC Thomson said it would honour existing subscriptions.
The club was launched in 1976 as the Dennis the Menace Fan Club.
It will be replaced in the next few months with a new website and will be known simply as Beano.com.
The old Beano Club cost £12.99 a year, and included a newsletter and birthday card among other benefits.
A spokesman for the DC Thomson said the publisher had not yet decided whether Beano.com would be free or be run as a subscription model with different levels of access.
Mike Stirling said: "It's not closing down. What we're going to be doing is we're going to be running it in a different format which will enable more people to join."
Mr Stirling said anyone who signed up before the cut-off point at the end of August would still receive their newsletters and a birthday card.
The company will be writing to all subscribers soon to notify them of the changes. DC Thomson is hoping to launch the new website in October.
The Dennis the Menace club started in 1976. It cost only 75p to join and membership peaked at 1.25 million members.
It ran for 22 years before becoming the Beano Club, which currently has about 10,000 members, aged from seven to 70.
Mr Stirling said the intention was to move to a "new type of club".
"The Beano Club is a lot more expensive to join so maybe it's a bit exclusive.
"We're hoping to make it easier to join to get more members - and give them more of a sense of a Beano community.
"What we're trying to create is a VIP feeling for Beano fans."
The Beano comic has been published since 1938. Dennis the Menace first appeared in issue 452, in March 1951, and is the longest running strip in the comic.