Daughter reveals axe killer abuse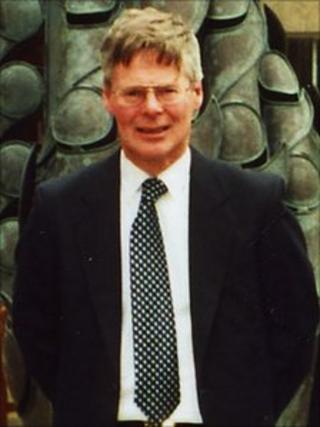 A daughter whose father killed her mother with an axe said he abused his wife for years before the attack.
Angela Geddes, 31, branded her father a "cold and calculating killer" who was not paying for his crimes.
Roger Geddes was charged with murder but prosecutors accepted a reduced plea of culpable homicide in June, on the grounds of diminished responsibility.
Geddes, 61, will be held at the State Hospital for psychiatric assessment until he is sentenced in November.
Judge Lord Doherty ordered that he be held in the State Hospital on an interim compulsion order.
Geddes admitted in June that he killed his 63-year-old wife Ann at their family home in Angus.
He did not appear in the dock at the High Court in Glasgow for this latest hearing.
Speaking outside court, Miss Geddes said: "This is a man who emotionally and physically abused my mother for many years.
"He was a controlling man who exerted the ultimate control over my mother and is not paying for his crime.
"He has never been questioned about his actions. We wanted our day in court. The case should have gone to trial."
Miss Geddes, a former head of midwifery at St James's Hospital in Leeds, was found dead at her home in Panbridge Road, Carnoustie, on 7 February.
Her husband, a retired civil servant, was charged with her murder the following day.
Both prosecution and defence psychiatrists who examined Geddes decided that his ability to control his actions at the time of the crime was impaired by mental abnormality.
But Miss Geddes said: "My mum told my father she wanted to leave him and the next day was viciously and violently killed by him.
"However, the court seems to have accepted his story that he was trying to fix a bedroom door at 7.30am on a Sunday morning with a hammer axe when he was still in his pyjamas.
She added: "This is not a case about diminished responsibility, this is a case about fatal domestic abuse of a woman who considered reporting her husband's behaviour to the police the day before he killed her.
"My mum feared for her safety and had a bag packed and a small amount of money hidden away so she thought she could leave quickly if she needed to. She never got that chance."
The court heard in June how Geddes had impersonated his wife's voice during a phone call to his daughter in an attempt to convince her she was ill with a sore throat.
He also dumped the weapon and blood-covered clothing in a council skip.
Lord Doherty will sentence Geddes at the High Court in Edinburgh in November.