Dundee hospital at forefront of bowel cancer treatment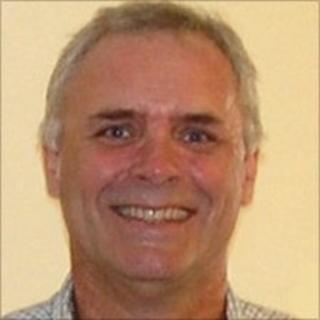 Ninewells Hospital in Dundee has become the first treatment centre in Scotland to offer a potentially life-saving new treatment for bowel cancer patients.
Ninewells is one of only three places in the UK to offer the specialised surgical and chemotherapy procedure.
Surgeon Francesco Polignano said it was a major step forward for patients with peritoneal carcinomatosis, who would otherwise have a "grim outlook".
He said it was 40% more effective than conventional chemotherapy.
Patient Euan Smylie who had the treatment said he was "full of life once again".
'Grim outlook'
He was offered the treatment earlier this year after discovering his peritoneal cancer could not be effectively treated with normal chemotherapy.
The procedure - known as peritonectomy and hyperthermic intraperitoneal chemotherapy - requires a patient to undergo a complex surgical procedure and involves the removal of the membrane that lines the inner wall of the abdomen and all visible recurrent cancer.
Mr Polignano, who oversees the new treatment, said: "By introducing this procedure to Tayside, patients with recurrent colorectal cancer will benefit greatly.
"As you can see from Euan's case, we have already carried out a few of these procedures so far with very successful results."
"The introduction of this new procedure is a tremendous step forward considering that patients with this condition known as 'peritoneal carcinomatosis' otherwise have a pretty grim outlook."