Taxi driver admits wasting police time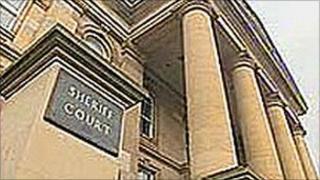 A taxi driver has admitted wasting police time after lying that he had been the victim of a robbery.
Douglas Leitch, 54, invented a story that he was robbed by passengers at knife point which sparked an armed police response.
The taxi driver claimed that he picked up three male passengers who took him hostage before robbing him of £70 by knife point.
Sentence at Dundee Sheriff Court has been deferred.
The court heard that after Leitch had reported his story, Tayside Police launched a manhunt, dispatching armed police and dog units.
Officers cordoned off Camperdown Park on the outskirts of Dundee where the alleged robbery took place around midnight on 10 June.
Police issued a public appeal for witnesses of the "attack" to come forward, while Leitch's employers, 203020 Dundee Private Hire Ltd, offered a reward of £5,000 for information leading to the arrest of the alleged attackers.
Leitch appeared at Dundee sheriff court where he admitted a charge of wasting police time by making the false claim and so leaving members of the public liable to be suspected and accused of robbery.
Sheriff Alistair Duff said: "This is an extremely serious crime.
"Not only have you wasted valuable police resources, but as a result of your lies you put at least three people and anyone else who might have fit the bill and couldn't account for themselves liable to suspicion and detention."
The court heard that a large number of police hours had been wasted by Leitch's lie and the bill, which does not include the police response on the night itself, amounted to £4,199.50.
Police investigation
Depute fiscal Laura Bruce told the court that Leitch had told police he had picked up three men in Union Street in Dundee at about 1155BST on 10 June.
He said the men had asked to be taken to a Travelodge on the city outskirts, but en route, Leitch claimed to have been "grabbed from behind" and told to drive into Camperdown Park where he was robbed.
The court heard that after 10 days of intensive police investigations, interviewing potential suspects, and scouring of CCTV images, police attended Leitch's house and accused him of lying.
Ms Bruce said: "It was put to him that he was lying and that CCTV disproved his version of events.
"He then accepted he had made up the story."
Leitch's solicitor, Theo Finaly, said it was imperative that the court had access to social enquiry reports before passing sentence.