Carnoustie golf course tea hut for sale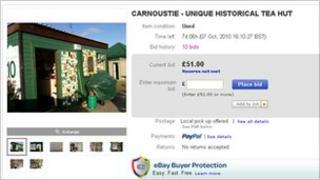 A tea hut that has served many of the word's top golfers has been put up for sale on eBay.
The wooden hut has stood behind the 10th hole at the Carnoustie course for more than 60 years, but is now being replaced with a more modern building.
The interior has been decorated over the years with hundreds of bag tags used by golfers and celebrities.
Whoever buys the green hut - often seen on TV coverage of Open Championships - will have to remove it from the course.
Bill Wharton, who has run the tea hut for the past 17 years, said on the eBay listing he was sad Carnoustie Golf Links Management Committee had voted to replace the building.
Golf heritage
"Situated behind the 10th green of the championship course is a modest wooden building which has made its own mark over the years; through the door of which countless golfing greats, sporting icons, and celebrities, have passed," he said.
"A little bit of character, and quirkiness, will be lost to Carnoustie for all time, a detail that does not escape the notice of many local, and visiting, golfers.
"However, the course's loss can be your gain as the opportunity exists here to bid for this unique piece of golfing history and heritage."
The green tea hut has a metal roof and "manages to keep the worst Carnoustie weather at bay", the listing adds.
It measures just 16ft (4.8m) by 8ft (2.4m). The winning bidder must be able to collect the hut by 22 October.
The golf course decided to replace the building after it was was warned it needed to upgrade its facilities or risk losing the right to host the Open Championship.