Record numbers of geese spotted at Montrose Basin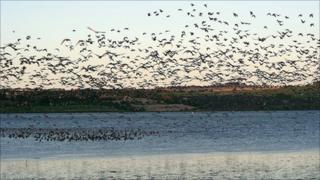 A record-breaking number of pink-footed geese have been spotted at an Angus wildlife reserve.
About 65,000 geese have arrived at Montrose Basin - the highest number ever recorded by the Scottish Wildlife Trust and 15,000 more than last year.
The trust has been running the reserve since 1976.
The geese have flown more than 1,200 km (746 miles) from their breeding grounds in Iceland and will now spend the winter at the basin.
Staff and volunteers count the birds, which first started arriving in mid-September.
Adam McClure, Montrose Basin ranger, said: "The news from today's goose count shows we now have over 65,000 geese at Montrose Basin this year, which is absolutely exceptional.
'Wildlife spectacle'
"Geese usually return to the same wintering grounds each year when they migrate from Iceland to spend the winter months in Britain's milder winter climate.
"However, we have seen our numbers at Montrose Basin gradually increasing for the last few years."
Mr McLure said the increased food available on agricultural land could possibly explain the rising numbers of geese.
He added: "This is truly one of the best wildlife spectacles in Britain and it is a sight which should not be missed."
The geese are expected to remain at the basin until March.