'Emaciated' rabbit found in Forfar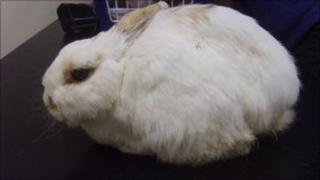 The Scottish SPCA is appealing for information after a severely emaciated rabbit was found abandoned in Forfar.
The charity was alerted after a resident of Thornton Park discovered the starving female in shared gardens.
The animal, which was severely underweight and suffering from diarrhoea, died on Sunday despite the efforts of a local vet.
Anyone with information about the rabbit is asked to contact the Scottish SPCA.
Inspector Nicola Liddell said: "The finder contacted a family member who owns rabbits to come and help her contain the animal, which she then cared for temporarily at her home in Glenrothes until Wednesday (29 September), when we were contacted to help."
She added: "I can't understand why anyone would allow their pet to get into such a poor state, particularly as this little rabbit had a very sweet nature and has clearly been well handled."