Facebook call over X Factor Gamu Nhengu rejection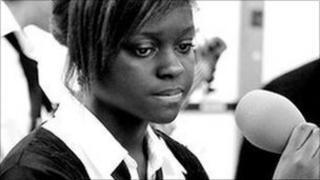 More than 140,000 people have now joined a Facebook campaign calling for the return of X Factor hopeful Gamu Nhengu to the show.
The 18-year-old, from Tillicoutry in Clackmannanshire, was rejected by judge Cheryl Cole despite being trailed as an early favourite to win.
Fans have reacted with anger to the decision which saw Katie Waissel and Cher Lloyd go through instead.
However, there are reports Gamu could appear as part of a wild card feature.
Reports have suggested that four rejected acts could still be included in the live finals of the show with each mentor choosing one.
'Best voice'
Gamu, who moved to Scotland in 2005 from her native Zimbabwe, was featured as part of BBC Scotland's Soundtown project when she performed with her school band at Alva Academy in 2008.
She had performed Pixie Lott's Cry Me Out at an audition for Cheryl Cole in Dorset.
However, Sunday's show saw the Girls Aloud singer give Gamu a reluctant 'no' and wish her well for the future.
Within hours of the rejection, more than 10,000 fans had joined the Facebook campaign.
Among them was Dorothy Law, who wrote: "Gamu should have gone through she was brilliant, far better than some of the others. Don't know what Cheryl is thinking."
Kirk Johnson posted: "Gamu is extremely talented. I do hope the twist is that she will come back and win the X Factor."
While Beryl Kingham added: "Gamu had the best voice of the whole comp. Cheryl was not forward thinking in her decision."
The first live X Factor show will be screened on ITV1 on Saturday at 1940 BST.