Experts identify Perth school truffle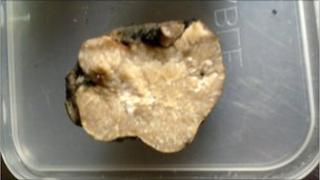 A mystery truffle discovered by pupils in their school vegetable patch has never been recorded in Scotland before, experts have said.
The truffle, dug up at Moncreiffe Primary School in Perth, was identified as choiromyces meandriformis.
It was initially thought to be a Scottish summer truffle, which is worth about £350 per kg.
Wild food expert Andrew Fraser said its edibility when fresh was unknown but that it was unlikely to be poisonous.
"There is only one book that states it is great when dried and powdered but all the other texts regard it as unknown.
"It will take a brave person to see if it is edible when fresh," he said.
Mr Fraser, who consulted with colleagues over the identification, said the find was more exciting for mycologists than chefs.
"The person who found it will have their name immortalised in the mycologists hall of fame," he added.
Samples of the white-brown truffle will be kept for future study and the school will be asked to preserve the site where it was found.
The truffle was found last week when pupils were harvesting potatoes, onions and beans from the vegetable patch as part of a project to help them understand where food comes from.