School cuts on council's agenda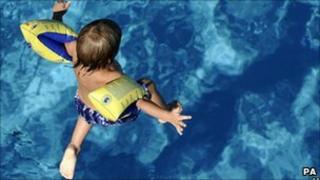 Swimming lessons, Gaelic education and support for vulnerable children could be dropped by schools in Stirling as part of cost-saving measures.
Other possible cuts outlined in a Stirling Council report were axing extra teachers for music, art and PE.
The paper asked that councillors considered whether the authority could afford non-statutory provisions "in a time of austerity".
It will be considered at a full council meeting on Thursday.
Stirling Council is attempting to reduce its budget by £30m over the next few years, with cuts to education amounting to more than £10m.
The education report said: "Stirling currently provides a range of additional/non statutory provision that, in a time of austerity, we must ask if we can afford to continue these inputs.
School closures
"The group would like to review the existing arrangements for primary swimming, the (additional) specialist teachers of music, art and PE, Gaelic education and study support."
"Other non-statutory services located within the education service such as play and out-of-school care, and elements of the integrated early years provision such as family support and extended care hours for vulnerable children, will also be considered."
Removing or reducing non-statutory provisions could save £750,000, the report's author estimated.
Other proposals in the document include schools sharing headteachers, the possible closure of other schools and increasing class sizes.
Savings arising from these measures could amount to £3m, but the report acknowledges that national and professional discussions would need to take place first.
The council is already considering the closure of two primary schools with very low numbers of pupils.
The fates of Lochearnhead and Inversnaid schools will be decided in February.