Carnoustie golf course tea hut sold on eBay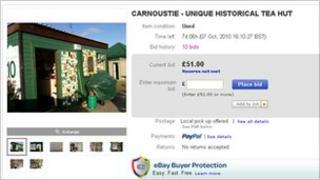 A tea hut that served many of the word's top golfers has been sold on eBay for £1,500.
The wooden hut, which stands behind the 10th hole at the Carnoustie course, is now being replaced.
There were 33 bids for the hut which measures just 16ft (4.8m) by 8ft (2.4m).
The green hut has also been decorated with hundreds of bag tags used by golfers and celebrities who have played at Carnoustie over the years.
The buyer has been told that they will have the responsibility of removing the tea hut from the course.
It has to be collected by 22 October.