Paramedic struck off over missing morphine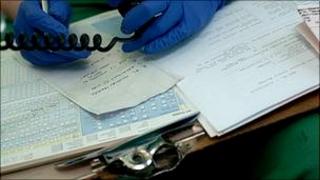 A paramedic sacked after morphine went missing from his care has been struck off.
Tristan Crumpton, from Arbroath in Angus, also forged signatures to cover for missing morphine doses while working in Aberdeenshire last year.
The 28-year-old medic has denied taking the vials of painkiller, blaming his poor record-keeping.
But a Health Professions Council tribunal found him guilty of misconduct in connection with the missing drugs.
Mr Crumpton was sacked by the Scottish Ambulance Service last year after the discovery of three broken vials of morphine at the Stonehaven station in July.
Grampian Police investigated the find, but eventually decided not to press charges.
Falsifying signatures
Ambulance boss Andrew Carr told the hearing that for a vial of morphine to break was "very rare" and for more than one to break was "totally unheard of".
Mr Crumpton, who did not attend the tribunal, was found guilty of six charges of falsely claiming to administer morphine sulphate and fraudulently recording administration of the drug in a colleague's passport to cover up the breakages of three vials.
He was also found guilty of falsifying the signature of non-existent witnesses in a colleague's morphine passport.
HPC panel chairman Colin Allies said: "The panel found that the registrant's conduct fell short of the standards expected of a registered health professional.
"The panel has found that the registrant's conduct is in breach of standards of conduct, performance and ethics set out by the council.
"The allegations are of a very serious nature involving dishonesty and falsifying records, as well as the serious failure to account for a considerable quantity of morphine sulphate."
Mr Allies said in the absence of a "credible explanation" from Mr Crumpton, the panel could only conclude his actions amounted to misconduct.
He added: "The panel has concluded that a striking off order is the only appropriate and proportional order which can be made in this case."