Simon Cowell joins Gamu deportation fight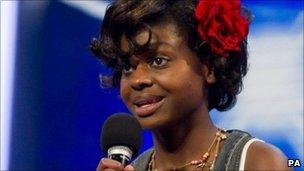 Simon Cowell has thrown his weight behind the campaign to save X Factor singer Gamu Nhengu from being sent back to Zimbabwe.
The music mogul's lawyers have been drafted in to help Gamu in her battle to stay at her Clackmannanshire home.
The prospect of being sent back to her homeland has been hanging over the 18-year-old after her mother's visa application was turned down.
Mr Cowell said: "We are helping Gamu and her family as much as possible."
He added: "We have lawyers working with her lawyers, not because we have to - but because I really feel for their situation, and that's outside of the show."
Multi-millionaire Cowell, 51, maintained bosses at the ITV1 show were not aware of Gamu's visa situation while she was on the programme.
"We were unaware there would be any problem with her visa until this week," he said.
The teenager's mother Nokuthula Ngazana was permitted to stay in the UK while she studied at university, with Gamu allowed to remain in the country as her dependant.
But Ms Ngazana's application to remain in the country was turned down, with the UK Border Agency saying it did not "meet all of the conditions for approval".
The visa extension was turned down on the grounds there was an administrative error in the application.
The family's solicitors said the error was due to Mrs Ngazana giving the wrong bank details, so the fee for the application could not be taken.
The application was judged "out of time" as a result, but the lawyers said it was lodged in time.
Frances Farrell, the lawyer representing Gamu and her family, who live in Tillicoultry, has said she will appeal to an immigration tribunal against plans to deport them.
Mr Cowell's lawyers are expected to advise on the appeal to a Glasgow tribunal and it is understood an X Factor producer has been assigned to look after the family.
Gamu reportedly fears for her safety if she is forced to return to her native Zimbabwe.
She was eliminated from the X Factor last weekend, despite being a huge hit with fans.
More than 250,000 fans have signed up to a Facebook page called Gamu Should Have Got Through, in protest at judge Cheryl Cole's decision to leave her out of the final 12.
Ms Cole defended her decision saying: "I understand completely why everybody felt so strongly towards Gamu. I thought she was great too like all eight girls but what the public saw was an edited version of what the audition process actually involves.
"It is always a tough decision and for me personally, the part I enjoy the least. I would have loved to take all of the girls."
She said of Gamu's deportation battle: "I was not aware of Gamu's situation outside of the competition and I am incredibly sad for both her and her family but I have to stress that it did not have any influence over my choice."
Those who did make it through will face the public vote for the first time on Saturday night, with show insiders promising "a twist" to the usual routine.
John Locke, the pastor of the evangelical church that Gamu and her family attend, has started an online petition against the decision by the UK Border Agency and has so far collected more than 4,000 signatures.
Related Internet Links
The BBC is not responsible for the content of external sites.