Anger over Ochil Hills wind turbine proposal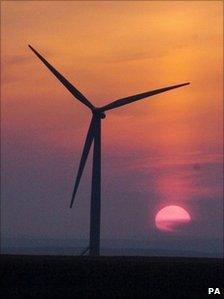 A plan to build a 64m (209ft) high wind turbine at the foot of the Ochil Hills has provoked anger from locals who have branded the scheme "preposterous".
Developers have applied to Clackmannanshire Council for permission to erect the turbine at Girnal Farm, near Menstrie.
But the application has prompted dozens of negative comments on the council website from those living nearby.
The turbine would be built by Ayrshire-based Ventus Green Energy if approved.
Comments on the scheme, which include an access road, are being accepted by the council up until 13 October.
Logie and Dollar Community Councils have objected to the proposed turbine.
Christina A'Haram from Menstrie said: "Many nearby residents are unhappy at the lack of public consultation for this.
"There are homes located very close to the proposed site. Many are gravely concerned about noise, visual impact, how such a construction will affect property prices, even the desirability to live in area."
Ms A'Haram said other people in Menstrie were worried the "gigantic" turbine could be a "wind farm by the back door".
One of the dozens of objections registered on the council's website, from local Grier Edmead, said: "I moved here four years ago and specifically bought my property for the view from the rear of the house which looks onto the proposed wind turbine location.
"I strongly object to this proposed wind turbine project and would definitely move home should this preposterous development proceed.
"Surely on top of the adjacent hills out of view of properties would be a more obvious and geographically enhanced location instead of in full view of hundreds of residents."
Many of the objectors noted that the turbine would be visible from the Wallace Monument in Stirling.
Jimmy Mair, from Ventus Green Energy, said the company took into account the environmental, archaeological and visual impact before starting on projects.
"We try and look at them sensibly," he said.
"But these things are going to be visible. They need the wind to work.
Mr Mair said there was huge interest from farmers all over Scotland in the turbines, which allow them to reduce energy bills and sell electricity back to the National Grid at a favourable rate.
"We are going to have to get used to seeing these turbines scattered all over the country," he said.
Related Internet Links
The BBC is not responsible for the content of external sites.