Bannockburn centre to offer 'flavour' of battle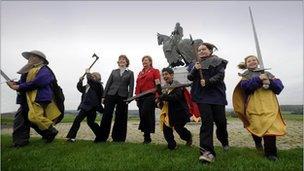 A new £5m visitor centre is to be built at the battle of Bannockburn site, the Scottish government has announced.
Culture Minister Fiona Hyslop said it would be a world class attraction offering visitors a "real flavour" of the 14th Century battle.
Historic Scotland and the National Trust for Scotland will work together to build the centre by 2014.
The Scottish government said the investment would increase visitor numbers by 30%.
Scotland is hosting the Commonwealth Games and the Ryder Cup in 2014, which has also been named as the next year of Homecoming.
Ms Hyslop said the centre would set "new standards" for Scotland's tourism industry, giving an "immersive" digital experience.
"The regeneration project will have a positive impact on the Bannockburn Heritage Centre, the local community of Stirling - already looking forward to the unveiling of the £12m Stirling Castle Palace Project - and Scotland as a whole," she said.
"A new visitor centre will bring a leading-edge digital interpretation to the battle of Bannockburn when it opens in 2014 and establish the site's position as one of the most historically and culturally important places in Scotland during the battle's 700 year anniversary."
The National Trust for Scotland said they were very excited at embarking on an "ambitious project" that would help tell the story of Scotland.