Benedetti masterclass for Raploch Big Noise orchestra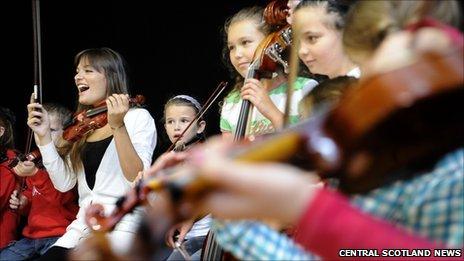 Violinist Nicola Benedetti has given a series of masterclasses to a children's orchestra set up in a community once blighted by drugs and crime.
The Big Noise orchestra in Raploch, Stirling, was set up in 2008 - inspired by the Venezuelan El Sistema scheme to help poorer children.
Benedetti gave the children tips on technique and musicianship.
The 23-year-old shot to fame in 2004 when she won the BBC Young Musician of the Year title.
There are now more than 300 children at Raploch Primary School - from nursery age to P7 - who have been taught to play string instruments in the Big Noise orchestra.
The orchestra programme uses music-making to foster confidence and teamwork in the children - and across their wider community.
Making her first visit to Raploch to deliver the masterclasses, Benedetti said: "El Sistema has caused a lot of excitement in the music world and I was absolutely thrilled and proud when I heard an orchestra had started in Scotland.
"I just had to get involved."
Ayrshire-born Benedetti took up the violin aged five years old and was 17 when she won the young musician title.
Sistema Scotland Director Nicola Killean said: "What better role-model can the children have than Nicola Benedetti?
"We want to honour her for her wonderful achievements in music. As a special visiting artist she will make a valuable contribution to our work.
"The children are beside themselves with excitement. We hope this is the first of many successful visits."
El Sistema was founded in Venezuela in 1975. It now has a network of 180 orchestra centres serving 350,000 children across the country.
Raploch's Big Noise is the first Sistema orchestra in Europe.
The children have performed at the G20 summit in St Andrews and at the Queens Hall in Edinburgh, as well as Stirling Castle.
Related Internet Links
The BBC is not responsible for the content of external sites.