Arbroath marine who lost legs in blast joins ski team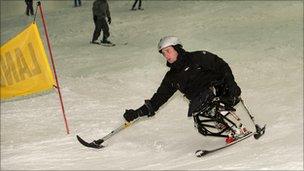 A marine who lost both his legs in an explosion in Afghanistan is to begin skiing competitively after giving away his wheelchair.
Cpl Ian Bishop, from Arbroath, was wounded during a foot patrol in Helmand in February 2009.
He will compete with the Combined Services Disabled Ski Team.
The team of 12 are all serving soldiers with permanent disabilities inflicted during an operational tour.
Cpl Bishop, 30, lost both legs above the knee in a blast from an improvised explosive device, but said he was determined not to be held back by his injuries.
"I used to ski a lot before and I just wanted to get back out on skis," he said.
"It's a brilliant sport, and it's nice to have the freedom to go down the mountain."
The marine, from 45 Commando in Arbroath, said he was "sick of being in a wheelchair" and eventually gave his away.
"I just wanted to get back to normal, and skiing is part of that," he said.
Father-of-one Cpl Bishop, who is back at work as a section commander of eight men in Arbroath, uses a specially-adapted mono sit-ski when competing.
He said his goal was now to earn a place on the British winter Paralympics team.
The Combined Services Disabled Ski Team are scheduled to compete in a range of military, national and international races this year.
Their first competition will be the Royal Engineers Championships, held in December in Austria.
Related Internet Links
The BBC is not responsible for the content of external sites.