Tobin drops Vicky Hamilton sentence appeal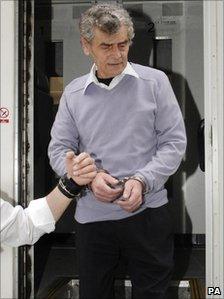 Scottish serial killer Peter Tobin has dropped his appeal against his life sentence for murdering schoolgirl Vicky Hamilton.
Tobin, 63, who is serving life for murdering three young women, had been challenging his 30-year sentence for killing the Falkirk teenager in 1991.
Ms Hamilton, 15, was abducted in Bathgate in West Lothian.
Her remains were found 17 years later buried in the garden of Tobin's former home in Margate, Kent.
Judge Lord Emslie branded Tobin "unfit to live in a decent society" following his conviction at the High Court in Dundee in December 2008.
He was given a life sentence and ordered to serve at least 30 years.
The appeal at the High Court in Edinburgh centred on Tobin's claim that the sentence was excessive.
A hearing relating to the appeal was due to take place on Friday this week.
But the Scottish Court Service has now confirmed a Minute of Abandonment had been received and the appeal would not continue.
The minute would have been submitted by Tobin's counsel on his behalf.
In August, Ms Hamilton's father Michael, and Ian McNicol, whose 18-year-old daughter Dinah was also murdered by Tobin, called for him to be denied the right to a court appeal.
The call was made after Tobin failed to turn up at the Court of Appeal in Edinburgh twice through illness.
Mr Hamilton said at the time it was "ridiculous" that taxpayers' money was being spent on the appeal when the killer would spend the rest of his days in jail.
Mr McNicol described the appeal as "a farce" and said Tobin was "a chancer".
Tobin, from Johnstone in Renfrewshire, is serving another two life sentences for the murders of Polish student Angelika Kluk and Ms McNicol.
He raped and killed Ms Kluk, 23, at a Glasgow church in September 2006.
Ms McNicol vanished in August 1991 while hitchhiking to her home in Tillingham after leaving a music festival in Liphook, Hampshire. Her remains were found alongside those of Ms Hamilton.
Related Internet Links
The BBC is not responsible for the content of external sites.