Quilts capture Scottish women's history for exhibition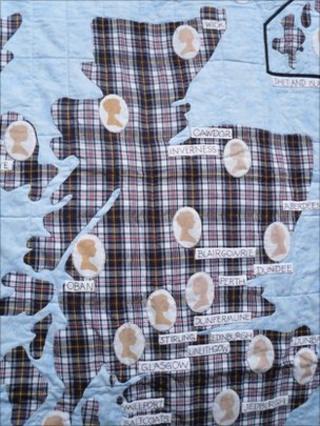 The lives of famous women from Scotland have been captured in quilt work for a new exhibition in Stirling.
Historic figures including Mary Queen of Scots, St Margaret, missionary Mary Slessor, and social reformer Fanny Wright feature in the collection.
It has taken more than a year for Tina Gravatt and Lorraine Sullivan to stitch more than 40 quilts, ranging in size from about 24in (61cm) to 13ft (4m).
The exhibition "Remember Me?" will open at the Stirling Smith on 20 November.
The artists began working in summer 2009, hand and machine quilting, patchwork, appliqué, embroidery and printing to celebrate the achievements and contributions of Scottish women throughout the centuries.
Some of the works are more thematic, covering Votes for Women, medicine, mill workers, agriculture and science.
The stories of women from the Shetland Islands to the Scottish Borders are included in the exhibition.
Elspeth King, director of the Stirling Smith, said: "The sewing and patch-working life histories is not often done in the Scottish context.
"I hope that this exhibition will inspire other needle workers and create more interest in the neglected subject of women's history."
The exhibition is to tour throughout Scotland.