Pupils confront school speeders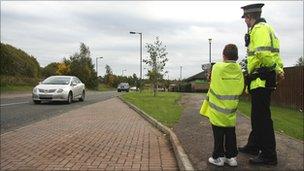 Pupils in Stirling have confronted motorists who were caught speeding outside their primary school.
Four drivers were caught travelling at more than 30mph outside Braehead Primary School by police using handheld radar detectors.
They were stopped by community officers and then "lectured" by the pupils for breaking the speed limit.
Central Scotland Police said the impact of being talked to by children was more effective than an official warning.
The four drivers were detected between 1100 and 1200 BST.
Pc Scott McMaster said: "The problem with speeders on Pike Road has been highlighted to me on a number of occasions from members of the local community.
"This initiative to involve pupils from the local primary school has been successful elsewhere in the force area and I was keen to adopt this strategy in Broomridge."
"The impact of the children speaking to the speeding motorists is far greater than any warning the police could have administered, after all it is often children who are the victims of inconsiderate drivers."
Related Internet Links
The BBC is not responsible for the content of external sites.