Dundee University to discuss job cuts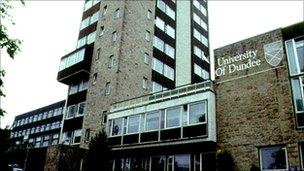 Plans to shed nearly two hundred jobs at Dundee University are to be examined by its decision-makers.
The proposals under consideration by the university's court would save £8m a year if approved.
The lecturers' union has vowed to fight compulsory redundancies and warned the proposals could jeopardise the university's international reputation.
The university has opened a voluntary severance scheme, but it has not ruled out compulsory job losses.
Professor Pete Downes, principal and vice-chancellor of the University of Dundee, told BBC Radio Scotland's Good Morning Scotland programme that the plan was to re-prioritise and invest in areas which delivered both excellence and financial sustainability.
"We need to strengthen the university ahead of unprecedented cuts in public expenditure, and these will undoubtedly affect universities," he said.
"It is primarily about steering the university in new directions in which we'll focus very much on the great strengths that the university has.
"We will have a university that invests in things it's most famous for, and invests in the things that are contributing positively to the Scottish economy and in particular the economy of Tayside."
Mary Senior, of the University and College Union, said the scale of the job cuts and the potential impact on the learning environment in Dundee were "deeply concerning".
She said: "Clearly having less staff is going to mean a poorer service for students - that's our fear."
"We're also concerned about the business modelling that's being done on so many universities now, including Dundee.
"Universities are not businesses in the traditional sense. They're learning institutions and they're democratic institutions."
Related Internet Links
The BBC is not responsible for the content of external sites.