Scheme to reduce impact of Beauly Denny power line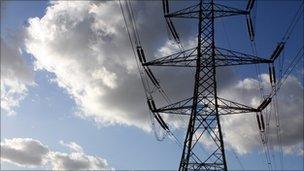 More than 100km (60 miles) of existing overhead power cables are to be buried in an attempt to reduce the impact of the new Beauly to Denny line.
The Scottish government said the plans would help minimise the "visual impact" of the new high voltage power line.
The plans are in addition to the removal of the current pylons running from Beauly to Denny.
But the John Muir Trust has said the measures do not go far enough to safeguard Scotland's landscape.
The controversial new power line from Beauly near Inverness to Denny near Falkirk will run for 220km (137 miles) through Scotland, taking renewable energy from the north of the country to consumers in the south.
It will consist of a network of 600 pylons, some more than 200ft (60m) in height, and connect renewable power projects to the national grid.
The project was approved by the Scottish government in January 2010, subject to "extensive conditions" being met to reduce the impact of the line.
The measures now approved by ministers are:
6km of line and pylons around Beauly will be replaced with underground cables
53km of line and pylons between Boat of Garten and Cairnmore in the Cairngorms National Park will be removed completely
40km of 132kV lines and steel pylons between Etteridge and Boat of Garten will be replaced with 33kV lines supported by wooden poles or by underground cables
10km of overhead line around Whitebridge and Amulree to be buried
8km of line in and around Muthill to be replaced with underground cables
Plans to reduce the impact around Stirling will be announced at a later date.
Energy Minister Jim Mather said: "The rationalisation schemes approved today will help us realise the benefits of renewables whilst acting to safeguard the landscape."
But Steven Turnbull, from the John Muir Trust, said: "While we welcome anything that reduces the visual impact of the Beauly-Denny line, these measures do not go far enough to safeguard the landscape.
"This announcement merely raises questions as to why only a third of the line can potentially be put underground, while 600 giant pylons will still cut a swathe through the Highlands".
In September, Scottish Power - which is responsible for 12 miles (20km) of the line in the Stirling and Falkirk areas - ruled out burying the new line underground, citing technical, environmental and economic reasons.
Instead, the firm said it would use trees and shrubs to minimise the visual impact of the pylons.
Related Internet Links
The BBC is not responsible for the content of external sites.