Perth 'grouse of the north' approved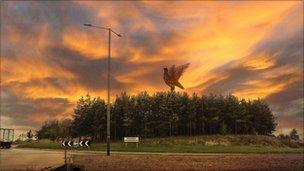 A giant statue of a grouse is to be built on a Perth roundabout after getting council planning permission.
The 6.25m (20ft) high sculpture will depict the bird taking flight and is to be erected on the Broxden roundabout on the outskirts of the city.
It will be built from an open framework of galvanised steel by artist Ruaraig Maciver from Beltane Studios.
Perth and Kinross provost Dr John Hulbert said he hoped the grouse would become Perth's "Angel of the North".
The project is part of Perth's 800th anniversary celebrations. The grouse was chosen as a "symbol of Perthshire".
Perth whisky company Edrington Group has paid for the sculpture, which will sit on an 8m (26ft) high plinth at the A9-M90 junction.
Finance Secretary and local MSP John Swinney said: "I am delighted that planning permission has been granted for this striking sculpture at the gateway to Perth, providing a lasting legacy of the Perth 800 celebration with the symbol of Perthshire.
"The Scottish government wholeheartedly supports Perth in its aim to restore its city status and is pleased that our transport agency, Transport Scotland, is playing an active part in supporting the Perth 800 anniversary, celebrating the work of the Royal Burgh."
Transport Scotland were consulted over the project to ensure it met safety requirements.
Dr John Hulbert said he was sure the statue would become a "key landmark" in Perth.
He added: "Perth has a great history and connection with the grouse - especially given its great importance to the local economy - so we felt this was a very fitting choice. We hope this sculpture will become our version of the 'Angel of the North'."
Related Internet Links
The BBC is not responsible for the content of external sites.