Company dismisses Dundee high speed broadband doubt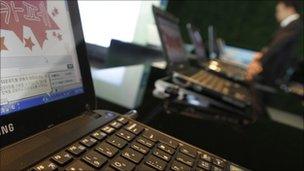 Reports that the "plug has been pulled" on superfast broadband in Dundee have been denied by the company behind the project.
Workers have reportedly been laid off by a subcontractor building the network in Dundee.
But a spokesman for i3 Group said it was the result of a temporary delay and that the company "remained committed" to Fibrecity Dundee.
The new system will be capable of providing speeds of more than 100 Mbps.
The average broadband connection speed in the UK is currently just above 4 Mbps (megabits per second).
Cables are laid in the sewers and the technology should be available to 55,000 homes by the end of the year.
The spokesman said he expected workers who had lost their jobs to be taken back on once work restarted.
A statement from i3 Group said: "Work on the project has been delayed slightly while the group's UK operation is restructured to bring it in line with the company's overseas subsidiaries. We expect this to take up to four weeks.
"While we regret the confusion that this has caused in the marketplace, this restructuring will increase the efficiency of the organisation and place it in an even stronger position to use its innovative technologies and methodologies to deploy Britain's largest fibre-to-the-home network."
Related Internet Links
The BBC is not responsible for the content of external sites.