Technology firm 3D Diagnostics to trade on Aim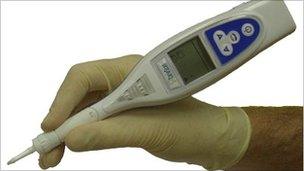 A company selling dental technology developed at Scottish universities has raised £2.7m in capital and is to list on the Aim stock exchange.
3D Diagnostic Imaging plc is marketing a hand-held sensor device that scans for dental decay, reducing the need for X-rays and fillings.
The technology was developed at Dundee and St Andrews universities.
The company is registered in the Isle of Man but trades under the CarieScan brand from an office in Dundee.
It announced on Wednesday that it has raised £2.7m and intends to start trading on London's Alternative Investment Market from 22 November.
The financing deal gives 3D Diagnostics a market valuation of more than £10m. The injection is aimed at improving its manufacturing capacity and reducing the cost of making its sensors.
Its primary marketing aim is adoption by dentists in the US and Canada and it has signed a partnership deal with product distributor Patterson Dental.
The company said its longer-term plans were to adapt the technology for early detection of osteoporosis, malignant melanomas, monitoring battery health in electric vehicles or corrosion within buildings.
James Noble, chairman of 3D Diagnostic Imaging, said: "3D has reached an exciting stage in its development where its strategic objectives can be more readily achieved by a listing on AIM, providing the group with access to additional funding to achieve our growth aspirations.
"Having recently appointed Patterson Dental to distribute the CarieScan in the USA and Canada, the proceeds of the placing enable us to scale-up manufacture of the PRO to target these substantial markets."
Related Internet Links
The BBC is not responsible for the content of external sites.