Gold mining company prospects on River Orchy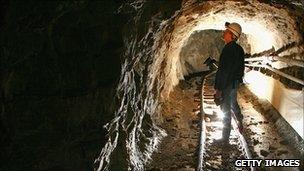 A company which was refused permission to reopen a gold mine in a national park is prospecting in a new glen, just outside the park boundary.
Scotgold Resources said it was "very encouraged" by the gold potential in the River Orchy area.
Exploration is taking place 5km (three miles) north west of the Cononish mine where mining rights were refused.
Although outside the Lomond National Park, the gold deposits are close to popular climbing venue Beinn Udlaidh.
Outdoors writer Chris Townsend said the area was visited frequently by hillwalkers and climbers throughout the year.
"I would imagine that exactly the same concerns would apply outside the national park as inside the park," he said.
"In a sense the park boundary is artificial - it doesn't mean that the highlands outside it are any less valuable."
The Mountaineering Council of Scotland said it would also be concerned about the impact on the landscape and recreation in the area if mining took place.
Scotgold Resources managing director Chris Sangster said: "Scotgold is very encouraged by these high grade assays.
"Although exploration in the area is still at an early stage, the results continue to highlight the potential of the River Vein Prospect to host high grade, narrow vein gold and silver deposits."
Mr Sangster said the company's immediate objective was to map out more fully the distribution of gold mineralisation in the glen, near Bridge of Orchy.
Some drilling has already taken place, but Mr Sangster said the initial investigations could take a year.
"Gold mines don't just happen. Five to 10 years from the first exploration is the normal timescale," he said.
"It's a very interesting area - there's a lot of gold around. It's up to us to prove its viable."
Mr Sangster said the new area of exploration did not have the same constraints as it was outside the national park, but added the company would still take environmental concerns seriously.
Scotgold Resource's application to reopen the abandoned Cononish Mine, near Tyndrum, was turned down by the National Park Authority in August.
The national park said the potential economic benefits could not be balanced against the conservation concerns.
There was considerable local support for the mine.
Related Internet Links
The BBC is not responsible for the content of external sites.