Rugby star Kenny Logan leads Stirling pylon protest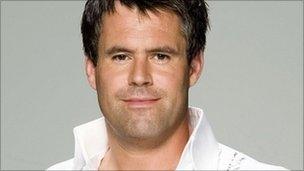 The former Scotland rugby international Kenny Logan is set to lead a protest in Stirling calling for the Beauly to Denny power line to be buried.
Anti-pylon protesters have described the demonstration as a "last chance" to change the overhead line.
The Scottish government granted consent for the 220 km (137 miles) project to upgrade the existing line in January.
Mr Logan, who comes from Stirling, has been critical of the proposals.
He has previously said he would be willing to allow land, owned by his family, to be used to bury some of the pylons.
However, in September, Scottish Power - which is responsible for 12 miles (20km) of the upgrade in the Stirling and Falkirk areas - ruled out burying the new line underground, citing technical, environmental and economic reasons.
Instead, the firm said it would use trees and shrubs to minimise the visual impact of the pylons.
It has been carrying out a consultation with locals to finalise what mitigation measures it is prepared to take to limit the visual impact of the new pylons.
A spokesman for the firm said: "We voluntarily launched this process so we could speak directly with communities and stakeholders, to hear their views and to answer their questions."
As part of the agreement to construct the new power line, the Scottish government imposed a series of conditions on power companies Scottish and Southern Energy and ScottishPower.
Caroline Paterson, from the protest group Stirling Before Pylons, said: "I suggest this is our last chance, because it is imperative that we impress on the Scottish government the need for them to reject Scottish Power's mitigation proposals.
"If the Scottish government approves them - then condition 19 will be fulfilled (though without community consensus and the community consultation will clearly have been totally ignored) and the line can then proceed."
Mr Logan will lead the protest meeting on Friday at King Street in Stirling, from 1730 BST.
Related Internet Links
The BBC is not responsible for the content of external sites.