Control room merger plan for Tayside fire and police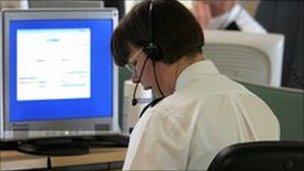 The police force and fire service covering Tayside have unveiled plans to merge their two control rooms.
The proposal will be discussed next month by the joint boards which oversee the two organisations.
Senior police and fire officers said the plan would save money and improve the service.
However, Jim Malone from the Fire Brigade Union described the move as "premature" and said it could undermine current discussions with ministers.
Tayside Police and Tayside Fire and Rescue Service said plans to share control rooms and fleet maintenance would be discussed at a meeting on 15 November.
They said the move was being proposed in light of expected funding shortfalls for both services in the coming years.
Chief Constable Justine Curran said: "Two areas deemed to offer the greatest potential for generating financial and operating efficiencies are control room and fleet maintenance.
"All aspects of collaborative work and efficiency savings within both services are subject to ongoing discussions with staff associations and unions.''
The area's chief fire officer, Stephen Hunter, added that the announcement was one of "several options" being discussed to mitigate the impact of spending cuts on frontline services in Tayside.
He added: "Over the coming months a detailed feasibility study will be undertaken to enable the fire and police boards to evaluate the options and reach the necessary decisions once clarification is received regarding future levels of funding.''
However, Mr Malone, from the FBU, said discussions were already under way between the fire service and Scottish ministers to identify the future path of the service.
He said the announcement in Tayside had come too soon.
"We believe that this announcement is premature," he said. "All it does is undermine the efforts made by the FBU and the Scottish government to agree the future provision of the service in Scotland."
Related Internet Links
The BBC is not responsible for the content of external sites.