Woman fined after confronting vandal's parents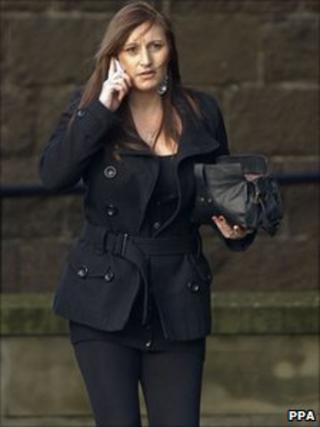 A mother who tackled a teenage vandal by driving him to his parents' home has been fined for breaching the peace.
Lynne Donnelly, 39, caught the youngster after he and his friend smashed a window in the common close outside her home in Perth.
But she was arrested after the 13-year-old's parents called the police.
Donnelly admitted breaching the peace and was fined £600. Her partner Maxwell Brown, 31, admitted assaulting the boy and was fined £200.
The breach of the peace charge was brought because Donelly forced the boy to accompany her and was shouting and swearing.
Perth Sheriff Court heard that Brown rushed out of his home on the evening of 13 May when he heard a smashing noise and discovered the broken window.
One boy had run off, but Brown grabbed the 13-year-old by his top and pulled him.
'Little remorse'
Donnelly ordered the boy to clean up the broken glass before ushering him into the couple's car and driving him to his parent's house.
Fiscal depute Rebecca Kynaston said Donnelly told his parents what their son had done, but ended up shouting at them because she was frustrated by their response.
Solicitor John McLaughlin, defending Donnelly, said: "The window has been smashed on a number of occasions and had to be replaced. It was toughened glass so not easily broken.
"She went down to get hold of the boy. He was wearing a hoodie and smoking and she believed he was a late teenager. When she saw he was younger she thought it inappropriate to call police."
Mr McLaughlin said Donnelly hoped the boy's parents would tell him off as he had shown little remorse for his actions.
He added: "She thought this would be a way of not getting them a record, but it has ended up with her in court."
Sheriff Lindsay Foulis told Donnelly he could understand her frustration, but said she had "totally lost the plot".
Speaking outside court, Donnelly said: "It is ridiculous that I am in court at all. I was sick to death of my door getting smashed. These kids just keep on coming in.
She added: "I was totally shocked when the police turned up and even they said they were surprised and couldn't believe it.
"The whole justice system is a joke. They smashed my window but nothing happens to them."