Pc 'gave information to suspect'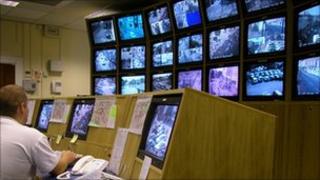 A police officer passed on confidential information to a drugs suspect whose car was being watched by detectives, a court has heard.
Pc Margaret Low, from Tayside Police, is accused of perverting the course of justice, along with her newspaper executive partner Scott Barlass.
Perth Sheriff Court was told Pc Low was working at a police CCTV centre when she tipped off suspect Callum Menzies.
Both Pc Low and Mr Barlass deny the charges.
Jurors at the trial heard that detectives who suspected skip hire company owner Mr Menzies may be involved in the drugs trade spotted a car belonging to him in Perth.
'Throwaway' conversation
On 3 February 2006, they reported the green Citroen car to the CCTV unit - where Pc Low and another officer were working - and ordered that it be monitored.
Det Con Colin Sheach, 50, said he and a colleague watched the car for a while before returning to the CCTV unit. He said he saw Pc Low "taking text messages" on her mobile phone.
He told the trial: "We saw a person leave the vehicle. It was Callum Menzies' son, Callum Menzies jnr. We decided to have the vehicle monitored to see if it moved.
"We went to the CCTV room to get an update."
Asked if he noticed anything about Pc Low, he said: "Her mobile phone seemed to be taking text messages. I would imagine it was her own phone."
Callum Menzies snr, 48, told the court he had known Mr Barlass, a distribution executive at DC Thomson, for 30 years and was aware he had split up with his wife and was living with "Margaret" who he knew was a police officer.
Second charge
Mr Menzies said Mr Barlass had called and told the court: "He asked me if I had a car with the registration, N-something or other. It was just a throwaway phone conversation."
He added: "His words to me were 'Junior has been up to no good'. I said 'thanks for that' and that was as far as I took it.
"I took it that my son was up to no good in the car but I didn't think a lot of it."
The charge against Pc Low alleges she unlawfully passed information about ongoing and impending drug enforcement activity to Mr Barlass, who in turn passed it on to Callum Menzies snr.
The officer also faces a second charge of trying to pervert the course of justice by unlawfully passing on information about a police drugs operation to Mr Barlass on 31 August 2007.
The trial continues.