Beauly to Denny pylon impact plans 'inadequate'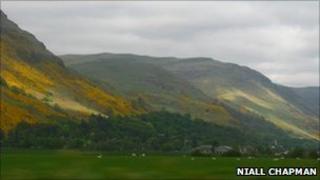 Councillors in Stirling have branded proposals to reduce the impact of the Beauly to Denny power line as "wholly inadequate".
Callum Campbell, chairman of the council's power line steering group, said mitigation plans did little to address communities' concerns.
The councillor has written to Scottish Power calling for the line to be buried.
Ministers approved the 440kv power line upgrade in January.
When it gave permission for the project, the Scottish government asked Scottish Power to draw up plans to limit the visual impact of the power line.
The company is responsible for a 12 miles (20km) stretch in the Stirling and Falkirk areas.
Scottish Power has ruled out burying the line to reduce the impact of pylons as high as 200ft (60m), citing technical, environmental and economic reasons.
Mr Campbell said in the letter that the Scottish government had made an "exceptional point" by including the Stirling mitigation scheme as a specific condition of consent.
"SPT [Scottish Power Transmissions Ltd] have not addressed this conditional requirement," he said.
"It is vital that there is effective mitigation to protect the residents, landscape and amenity of the Stirling Council area, and that underground sections of the power line is the most appropriate solution to address visual, landscape and other impacts."
The councillor said the public's participation in a recent consultation over the power line plans clearly demonstrated the "unanimous" strength of feeling over the "total inadequacy" of the proposals".
The route of the transmission line enters the Stirling at Cambushinnie and traverses over Sherriff Muir and down the escarpment of the Ochils at Logie, before leaving the council area at Glenside.
Mr Campbell's letter to Scottish Power accuses the company of not showing an "in-depth consideration and appreciation" of the Stirling area.
It adds: "The proposals amount to limited screen planting and limited tower painting. The council believes this is insufficient mitigation."