Neighbour's water revenge after row over extension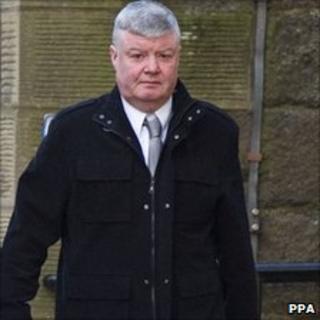 An electrician drilled a hole in his neighbour's house and pumped thousands of gallons of water into it because he did not like their new extension.
A court was told George McGourty pushed a hosepipe through the hole and filled the Perthshire home with so much water that he caused £50,000 of damage.
Shirley Elliott and her partner Colin Callachan had to move out of the Bridge of Earn home for eight months.
Sentence was deferred but McGourty, 51, was warned he could be jailed.
Sheriff Lindsay Foulis was shown pictures of the damage to the detached villa during the hearing at Perth Sheriff Court, including tide marks rising 2ft up the walls.
The sheriff said: "There's no getting away from it - he put a hose in the property and flooded it. That's way beyond the pale in respect of any niggles that may have arisen between neighbours."
Drilled hole
McGourty's own solicitor, Paul Ralph, said: "This insane behaviour, in the lay sense, has brought untold damage to both families. It all started when the extension was put up.
"It was about 4ft 6in bigger than they anticipated and it took longer to build than anticipated. Workmen were walking on their property and that started the ill-feeling."
Perth Sheriff Court was told that electrician McGourty secretly drilled a hole in his neighbour's wall and pushed a hosepipe through before turning on the tap for hours at a time.
Ms Elliott and her partner - who had used McGourty to wire the extension - spent months investigating the running water sound and eventually found the hose sticking out of their wall.
They followed the trail of the hose back to McGourty's shed and called in police officers, who discovered he had built a rabbit hutch to help hide the hosepipe.
They had been neighbours for 15 years. The pair had to move out of their home for eight months because of the damage.
McGourty, now of Kinfauns, admitted maliciously damaging the four-bedroom villa in April last year.